Each Svanhilde jewellery piece is made from high quality and durable materials, but it is still very important to take good care of your jewellery to ensure lasting beauty and longevity.

Jewellery should be regularly cleaned, otherwise dirt and grease can build up over time and the diamonds will not shine or sparkle as beautifully. A proper clean once a month is good, but we personally prefer to do a proper clean once a week. How often you clean your jewellery is up to you and depends on how well you take care of your jewellery. Just remember that the longer you go between cleanings, the more dirt will build up and it might take a bit more effort to clean the jewellery piece. 

Luckily, it is very easy to clean your jewellery at home! Follow our tips, recommendations and cleaning instructions to ensure that you always have that stunning sparkle that only diamonds can have. 

A Few Quick Recommendations:

You can also take your jewellery to a jeweller to be cleaned. Goldsmiths and jewellers use special cleaning products suitable for gold and diamond jewellery, especially if the jewellery is very dirty.

We recommend taking your jewellery to a jeweller to be checked every 2-3 years, as the prongs and claws may wear down slightly or become more loose over time. You can also ask your jewellery to polish your jewellery. White gold rings would need to be rhodium plated again after being polished, or the rhodium plating might wear down over time and will need to be redone. 

We offer our customers in Finland the opportunity to send their jewellery back to us for cleaning, polishing, rhodium plating (for white gold rings), or for other maintenance. We offer these services for a fee depending on the kind of service required. You are welcome to contact us at info@svanhilde.com, or from the Contact Us form if you have any questions or would like to have us service your jewellery.
Jewellery Cleaning Guide
Soak
Add soap into a cup of warm water.
Put your jewellery piece into the warm water and allow it to soak for 10-20 minutes depending on how dirty it is.
Wash
Take your jewellery out of the water and brush the jewellery gently with a soft bristled toothbrush. 
Rinse your jewellery and gently dry it with a soft cloth.
Safety Tips
Be careful not the wash your jewellery near the sink where the jewellery might fall out of your hand and down the drain. 
Don't push too hard when brushing your jewellery, otherwise you might risk moving the diamond out of place.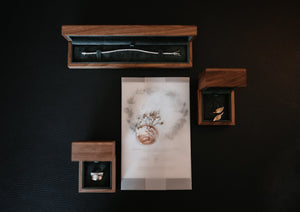 Safekeeping
Storing Your Jewellery
We recommend that you store your jewellery in a safe dry place when you aren't wearing it.

Keep your jewellery stored in a safe box or pouch, for example in the wooden box that each Svanhilde jewellery piece comes with.

When storing, keep jewellery pieces separated from each other to avoid scratching or denting.
Tips & Recommendations
Try to apply cosmetics, hand sanitiser, lotion, hairspray and perfume before putting your jewellery on.
Don't expose your jewellery to chemicals such as household cleaning products.
We recommend removing your jewellery when cleaning, exercising, gardening, and doing other physical work which might damage your jewellery.
You might want to remove your jewellery before cooking or baking.
We recommend removing your jewellery before swimming, showing or bathing.
Taking your jewellery off before sleeping will also keep it safe and secure.
If you love it, wear it!
Our Final Tip
When gold and diamond jewellery is properly cared for, it will stay is beautiful condition throughout its lifetime. 

The most important of all of our tips, always remember that jewellery is meant to be enjoyed, worn and used!